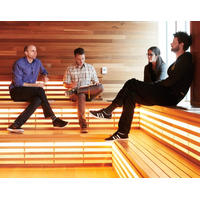 The entrepreneurial spirit is booming in Canada, where thousands of start-ups are developing tech that could change the shape of our lives. No wonder Silicon Valley is paying attention.
THE GIANT FLATSCREEN shows a man sitting in a café, phone in hand. With his manicured beard and glasses, he looks like he could be a third-wave barista on break, maybe playing a quick game of FarmVille. "That's what the farmer of the future looks like," says Ally Monk, co-founder of Motorleaf, a domestic agriculture start-up from Sutton, Quebec. Over the next seven minutes, Monk demonstrates how the technologies he's developing are within reach despite their futuristic mandate: to create a less fickle alternative to Mother Nature. With his app, we'll be able to control everything from humidity levels to sunshine to rain – no dancing required.
"There are over 5 million urban famers in North America, and we know we can generate at least $1,500 per farmer. This is a $7.5-billion opportunity," says the young entrepreneur to an impressed audience studded with potential investors.
---